Cartoon puppies
"Dogs on TV"
Cartoon puppies are just one of many famous roles played by members of the dog family. Beginning with cave drawings where dogsappeared as companion animals as well as hunted prey all the way until current times where dogs have high paying Hollywood careers, dogs have provided humans with companionship, entertainment and distraction.
With the advances in technology in the media industry, newspapers, film and television have made many stars of the canine family. With newspapers, comic strips were the perfect medium for fictional canines.
TV dogs and cartoon puppies
Dogs were appearing in comic strips as early as the mid 1850's. When comic strips became syndicated and distributed to other publications, "Sandy" from the comic strip Little Orphan Annie was the first cartoon canine seen around the world.
Some of the most famous characters are (in no particular order):
1) Snoopy
2) Odie from Garfield
3) Scamp from Lady & the Tramp
4) Barfy and Sam from Family Circus
5) Daisy from Blondie
6) Marmaduke from his own cartoon
7) Krypto from Superman
8) Dogbert from Dilbert
9) Snert from Hagar the Horrible
10) Hot Dog from Archie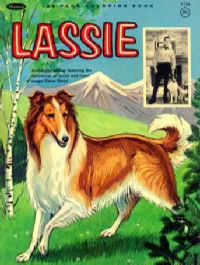 TV dogs
Cartoon puppies were further made famous by the advent of film and then television. In 1905 the first canine screen star appeared when Blair, a collie, starred in Rescued by Rover.
This was a British silent short movie. In the U.S., Jean the Vitagraph Dog, starred in movies from 1908 to 1913. Since then dogs have been popular additions and even the stars of these story lines.
Dogs have starred in many films that have endeared them to children and adults alike. Here is a list of some of these long-standing favorites:
Ace the Wonder Dog played in numerous films and film serials in the 1930'sand 1940's.
Rin Tin Tin, a German Shepherd Dog found in France during WWII, began starring in films in the 1920's and several of his lineage have followed in his paw prints.
Toto
, Dorothy's dog in The Wizard of Oz, became a star when the film was released in 1939.
Lassie quickly became a household name after the 1943 release of the film "Lassie Come Home". There were 7 eventual sequels to this film and they are still shown on television.
Pete the Dog starred in many of "The Little Rascals" and "Our Gang" films and shorts.
Old Yeller, a 1957 film released by Disney, stars a boy and his dog and their heart-breaking story.
Benji is the star of several films released in the 1970's. These star the little mixed breed named Higgins.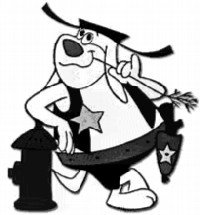 Cartoon puppies
There have been numerous films in current history starring and about dogs. These include: Homeward Bound, Air Bud, Beethoven, Turner & Hooch and many,many others.
Television cartoon puppies fast became a favorite for children. Starting in the 1950's Hanna Barbera began providing children and adults with cartoons,with a large number of them starring cartoon dogs.
The first they offered was "The Huckleberry Hound Show" and Huckleberry Hound is still around today. Here is a list of some of the most popular of these cartoon dogs through the years.
Astro from the Jetson's Deputy Dawg from "The Deputy Dawg Show"
Underdog from the series "Underdog" shown from 1964 – 197 3Wile E. Coyote first appeared in an animated feature in 1949 and began appearing in "The Roadrunner Show" in 1968.
Snoopy made his first television appearance in 1966 with "It's A Great Pumpkin, Charlie Brown" and appeared in 3 more along with his own television series beginning in 1985.
A few of the more current cartoon puppies to entertain children are:
Blue from Blue's Clues
Courage the Cowardly Dog
Spike from The Rugrats
Clifford The Big Red Dog
Scooby Doo
Santa's Little Helper from The Simpsons
With their train-ability and distinctive personalities, dogs provide an excellent medium for our entertainment.
Cartoon puppies to Dog Sweater