Canine pets are our kids
"Contact Us"
We love our canine pets and yes refer to them as our canine kids. We care for them the same as we would our human children. They receive the best we can afford in health care, food and life style.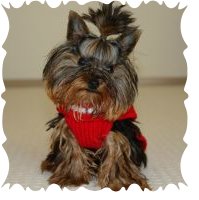 Yorkshire terrier teacup puppy
Teacup Dogs
Our canine kids vary from the teacup dogs to huge Dobbies. All that is required to qualify, as a canine kid is to be a dog.
Family Watch Dog
He may be a tiny lap dog, the family watchdog or a showstopper, winning first place prize at the best of dog breed shows.
Small dogs good with kids
The breed of dog doesn't matter, nor the sex, size or color. Only two things matter, it is that they are a dog and loved as a family member.
So if you are a Mom or Dad to a canine kid and would like to contact me, just use the form below.
Have a story to tell?
Have a picture to share?
Do you have a pet that crossed the Rainbow Bridge and would like to have him/her posted on our site in memory of them? Send a short note and a picture of your pet and we will post it.
Canine Pets Contact Page to Canine Kids