Helping a Career Dog in Training
"Basic dog obedience training"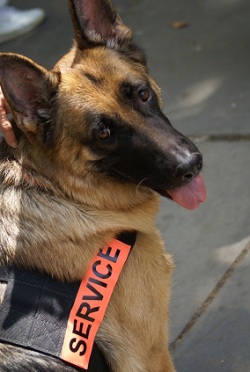 Search and rescue dog training
Have you ever seen a show about a career dog, in training? If you cannot live without watching dog TV shows, have a habit of collecting dog books and a passion for dogs overall, you might consider working with a one of these dogs.
These are dogs that hopefully will be used as service dogs. For rescues, helping the handicapped or socializing dogs for senior adoption. These dogs come from a variety of places from breeders to rescues.
Even better is if you have successfully managed to train your dog to obey specific verbal instructions or helped other dog owners around you to do the same.
These puppies need to be raised to a particular age in an environment where they get plenty of socialization and practical manners. This is the time that will determine if the dog will become a service dog or just a really nice pet.
The following are some tips on how to work with a career dog in training.
Set apart time to study books, watch videos and browse the internet for any information on dog training Since there are a number of core principles of a dog trainers' course, gathering as much information as you can will help you understand the class and practical training sessions better.
Learn about different forms of dog behavior and how to respond to them. Look at the different techniques of training to see which one suits you best.
Career dog training
I really enjoyed the stories about The Lost Pet Chronicles
and A Dog Named Slugger
Unbelievable the training both dogs and trainers have to go through.
Decide which area of dog training you want to specialize in. There are different types of dogs you can work with such as rescue dogs, service dogs, and search dogs. Ideally, you should go for the one you find most interesting since you are likely to be in the career in the long term, it is important that you enjoy the niche you choose.
Most of your work will be volunteer. But when handling a career dog in training, you will also have to interact with the dog's organization in order to assist them on how to best train the dog themselves as well as maintain its discipline.
The better your people skills, the better the more "employable" you are or the more your business can thrive. Avoid jargon and practice the use of easy to understand language.
Dog training job
Find mentors - When starting, you can volunteer your services at an established dog training firm. This could be as little as helping clean the kennels.
After some time you can request to participate in training the dogs even if it is just observation. Working with a reputable trainer gives your resume the needed weight that will help launch your career.
Practical skills are important when handling a career dog in training. However, academic credentials can give you an edge over other applicants when looking to help these organizations. You could enroll for a professional course in dog training. However, there is no standard training program.
Career dog in Training to Training
Canine Kids