Dog Sweater Knitting Pattern
Cute small dog sweater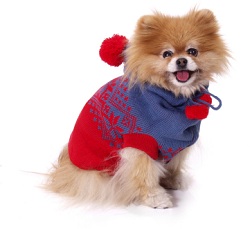 A cute dog sweater knitting pattern is ideal for creating a little extra warmth to keep your pet warm. Though your pet may not think the idea is a good one, there are methods to get your pet used to wearing it. Buying a sweater may be costly so why not make one?
You may want to find a pattern that has a photo of the finished product to help you decide if it is the right one. This will prevent dissatisfaction later. They make great gifts for those who own dogs. You may want to make more than one, if you or someone close to you has a pet. This is always a great way to start up a conversation with other dog owners.
The sweaters can be created with many designs for everyday wear or the holidays. For example, during the Christmas season your dog can wear a sweater with a tree on it. The garment is ideal for the cold winter season to keep your dog warm while out for a walk.
Every pet loves the extra attention given so a sweater is a special gift to your beloved pet. Since most dogs are indoors, they may be uncomfortable outdoors in the extreme cold times of the year, so a sweater will be necessary.
Large dog sweater pattern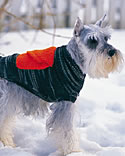 You can find this dog sweater pattern for a large dog sweater at Knitting-n-Crochet.com. Or you can find this crocheted sweater for a large dog sweater.
Creating a garment from dog sweater knitting pattern dose help protect your dog in inclement weather. It will protect your pet from the rain as well as snow. Since not all purchased apparel will fit properly, and is usually very thin, it may be better to make your own in various colors. Just like with people, not every color will suit the dog. Choose this wisely.
Since the dog may not accept the sweater right away, he or she will need to be trained. There are some tips to help the dog adjust to a new experience. They often do not like to wear clothing. Others will accept a sweater with no problems at all.
A cashmere dog sweater may be adorable but it is not practical.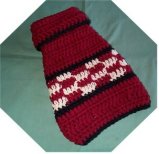 You can find the instructions for this cute loom knit dog sweater here. Free Pattern
Dog sweater instructions
When selecting a yarn to make a sweater, choose something that is soft and will have a long life. Using a rough material will be uncomfortable on your pet. The material must be warm enough to use in the cold weather. Do not make the garment too tight. It should fit comfortably and somewhat snug. When the sweater is worn, your pet should be able to freely move around.
After putting the sweater on the dog for the first time, sit with them and allow the dog to get used to having the garment on. Once your dog is used to it, he or she will love it.
Since there are many dog sweater knitting pattern to choose from, the decision may be tough. Knitting the sweater and seeing your pet wearing it will be a fun ordeal for both of you.
Dog Sweater Knitting Pattern to Canine Kids