A Very Pit Bull Christmas
by Jill
(United States)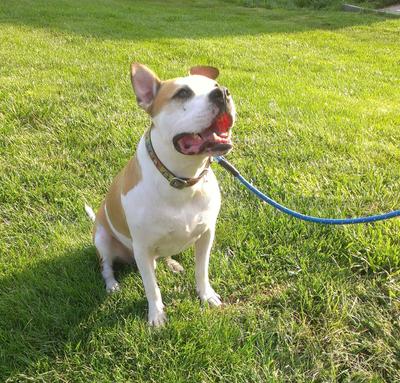 Gunner
Gunner was a pit bull living with some friends of our family. We saw him often on fishing trips and fell fast in love with him. He was as wild as a tornado but as sweet as apple pie.


When he was about 2 1/2 years old, we found out that his owners could no longer keep him. They had gotten over their heads with too many dogs in the family and planned to surrender Gunner to the shelter.
When my husband and I heard about this, we were devastated and decided that the best thing for everybody was to have Gunner join our family.
We were set to pick him up on Christmas Day at his home (about an hour and a half away from where we lived). But when we woke up that morning, the weather was horrible. A huge ongoing blizzard had brought more snow than we'd seen in years and was continuing to produce high winds and a lot of snow and blowing snow. It was downright dangerous to be out on the roads.
However, after discussing it, we decided that even if it took all day, we would get there to bring Gunner home. Luckily we had a big truck that was able to navigate on the snowy and slippery roads. We were smart, drove safely and slowly. We finally reached him after 3 hours of driving.
He was in his little kennel with a red Christmas bow on top. He was happy to see us but had no idea what his future held. So we put him in the back seat, threw his little kennel in the back of the truck (which we threw away the next day), and drove another 3 hours home.
That night, Christmas night, Gunner slept soundly in our bed snuggled up between us. We all three slept in together the next morning and he has been the joy of our lives ever since.
Best Christmas Ever.