Belgian Malinois Rescue
by Kittery
(Otterville, MO)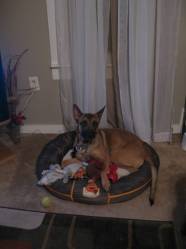 Belgian Malinois Rescue
This is Kyra, our 2 year old Belgian Malinois. My husband and I had just married, and were searching shelter after shelter for just the right addition to our new family. After a couple weeks of searching we found no one that we were interested in. We were on our way out of town (moving from one state to the next) and we stopped at the local shelter to say goodbye to old friends.


We took one last look around on our way out, and that's when we saw our Kyra. She was a cutie at only 5 months old. My husband took one look at her and knew we had to take her home.
We payed for her right there, and thanks to our friends at the shelter, they let us take her that day. We had our car loaded down with stuff, hadn't bought leashes, kennels, dog bowls, or even food.
We rode with Kyra on my lap all the way from Indiana to Missouri... We stopped at our new local pet store and bought her supplies. She's been with us ever since.
It was the greatest decision we've made yet! :)