Cattle dog training and behavior
by Dawn Harlow
(Arab, AL)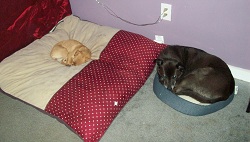 Confused over their luxury pet beds
This is my favorite photo of my two dogs Tasha and Rhys. Tasha is a Cattle Dog mix and Rhys is a Malchi. (Maltese/Chihuahua) These two best friends seem to have a bit of confusion over who belongs in which bed!
I often take in strays or unwanted dogs and find them new
forever homes
whenever I can so Rhys was only with me for a little while. She was a great little dog with the best personality. She loved to be dressed up in sweaters and taken out and about so other people could admire her. Rhys *loved* the limelight!
Tasha has been with me for 10 years now. When I got her she was 6 months old and had been severely abused. She and her littermates had been abandoned under a trailer when her former owners moved away and the puppies showed such signs of aggression that they were all put down, save Tasha.
Rather than aggressive, she was timid. I spent 6 months just teaching her that it was okay to be out of her cage. She didn't know how to play or how to be a dog. She only knew fear and pain.
Over the past 9 and a half years she's learned not only how to be a dog but how to love and be loved. She has helped show countless other timid dogs that humans don't always hurt and there's nothing better than a good game of fetch.
Tasha is a true Cattle Dog. When she was younger she would literally herd the neighborhood children in our backyard! She's also tried to herd ducklings, geese and chickens. Geese fight back, by the way.
Her favorite toy is anything with a squeak and her favorite game is chasing the laser light. She's brought me so much joy and I can't imagine what my life would have been like without her.
Dawn
-----------------------
Hi Dawn,
That is a wonderful story about Rhys and Tasha. It is such a shame what people can and will do to innocent animals.
I am so glad you were able to rescue Tasha and give her a loving home for all these years.
Thanks for submitting a heartwarming story.
Linda