Christmas dog collars
"Petsafe dog collar"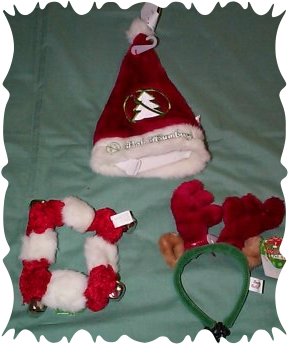 Christmas dog collars can be really cute but I advise you to use caution when buying them. I found this really cute Christmas collar and antler set for Hanna. It was all furry, red, white and green. The collar had little jingle bells on it, oh so very Christmassy.
Holiday dog collars
Thinking how cute the dogs would look on Christmas day when the kids all arrived I picked up a set. Hanna was all excited with the new items; she loves squeak toys. So I put the collar on her to see how they would look.
BIG, Big mistake! She went absolutely berserk. Crazy! When I put that Christmas dog collar over her head she heard the bells and tried to get away from them. Of course she couldn't because they were on her neck. All heck let loose and everything happened at once.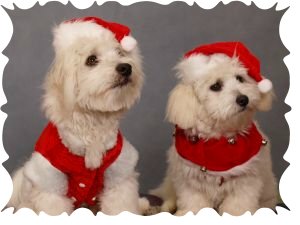 She was so frighten because of those darn bells, she tried to run away from them. Tiffany happened to be in her path and Hanna just attacked. Not that she hated Tiffany, it was just that Tiffany was there in her way and all Hanna was doing was trying to get away from those bells.
Everything was one big motion. All this happened so fast I couldn't get my hands on Hanna. Poor Tiffany didn't know what hit her, poor Hanna couldn't get away from those bells and I couldn't move fast enough to stop anything.
Flashing Dog Collars
I did get that collar off of Hanna and Tiffany wasn't hurt, just shocked. One minute she was sitting there watching us, the next thing she knows she is being run over by 10 pounds of crazy. I can only imaging what would have happened if I had put one of those flashing collars on Hanna. EEEEKKKK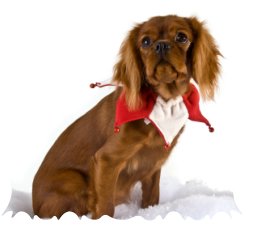 Holiday Dog Collars
It was crazy like a TV cartoon, everything happening so fast but I was in slow motion. From now on my girls holiday collars will only be colorful from here on out. No bells, whistles or lights flashing.
Everyone is ok but I will never use Christmas dog collars with bells on my girls again. It was so stupid and thoughtless. I hope you will learn from my mistake. Some dogs don't mind the bells but others get real upset.
Like all dogs, the minute I got it off her, she was happy and loved me again. Dogs are so forgiving.


Christmas dog collars to Dog Clothes