Dog clothes and bows are cute.
"Dog clothes patterns"
Dog clothes are necessary for some, a fashion statement for others and just plain silly to many. We are a little bit of each. Hanna needs to wear pajamas at night because she gets cold.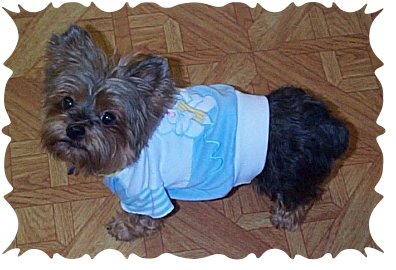 Tiffany doesn't need to wear clothes because of her thick fur but I will put a cute shirt on her now and again just for fashion and fun. But than there are some silly outfits I would never put on my girls.
When Hanna gets cold at night she will grunt, groan and snort all night long. She is probably shivering and trying to get warm. Well when I put pajamas (dog sweatshirt) on her, she is quite and happy all night long.
My husband says I freeze him out in the summer with the air conditioner on and I guess it bothers Hanna also. It doesn't seem to bother Tiffany but than she has that thick coat even when she is kept short. So I began putting a sweatshirt on Hanna every night. She has enjoyed a good nights sleep ever since.
How to sew dog clothes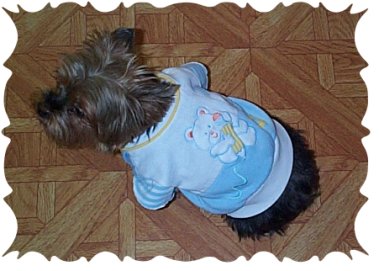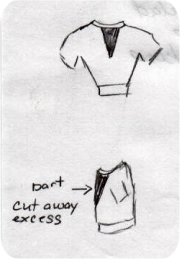 Clothes for dog
The sweatshirts I use for Hanna, I find in thrift stores or at yard sales. Maybe I will spend .50 cents on one but more often than not it is .10 cents. I find all kinds of colors and cute designs to choose from. I go to the baby section and look for them in 3 – 6 months size.
They need a bit of altering when I get home because naturally the babies arms are further apart than a dogs front legs. The size of shirt will depend on the size of your dog. Hanna is only 10 inches tall and 9 – 10 lbs.
This is how I alter them; it is not hard at all. First I cut off the sleeves leaving only about one or two inches. You don't have to hem them if you don't want, because this material won't fray.
If the shirt has a design, I make this the back. Than I make (sew) a dart in the front of the shirt (originally the shirts back where the tag is). Cut away excess fabric and the dart will lay flat. This will bring the front closer together for the dogs' front legs.
Toronto Faux Suede Coat Medium Color: Tan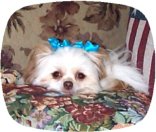 Dog Bows
I have knitted and crocheted sweaters for both Tiffany and Hanna but Tiffany really doesn't need them. She is the one that wears bows. It is funny the way they are so different. You can't put bows in Hannas hair but Tiffany has no problem with them. But Tiffany doesn't much like wearing a shirt. Just like kids in any family. All in the same family but unique in their own way.
Shih Tzu Rescues
Shih Tzus and Furbabies. They are a national organization dedicated to the rescue, rehabilitation and rehoming of small breed dogs. They are a 100% volunteer, privately-funded organization and they couldn't do what we do without your support.
Dog Sweater Knit on a Knifty Knitter Loom
Dog Sweater Crochet Dog Sweater Pattern
Halloween Costumes Halloween Costume