Chihuahua Dog Clothes
"Shih Tzu Chihuahua mix"
Please let me introduce you to our Chihuahua dog. She is half Chihuahua really and also half Shih Tzu. Her mother was a 5 lb Shih Tzu and her father was a 3 lb short-haired fawn colored Chihuahua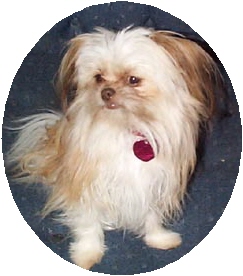 Teacup chihuahua puppies
As you can see she is tiny like both of her parents. Except for her longer snout she looks very much like a Shih Tzu until she is wet. Her coat is double and thick. We keep hair cut short for ease of care. She must be brushed regular. Tiffany has the drop down ears like a Shih Tzu also. But the resemblance stops there.
Miniature teacup chihuahua miniature chihuahuas
Her personality is all the Chihuahua dog. She is bouncy, some say hyper. She is vocal, some call it yappy and yes she is spoiled rotten. We are so glad we adopted her and she became part of our family.
Cute chihuahua names
I love the miniature dogs and when I saw Tiffany it was love at first sight. She was only 5 weeks old when she came home to live with us. I don't recommend anybody get a puppy at this young age. But the owner was going to dump her at the flea market and I couldn't let that happen.
Tiffany is now 4 years old and has grown to be a loveable, energetic, happy furbaby. She may look like a Shih Tzu but she is pure Chihuahua. She loves her sister Hanna my 8-year-old Yorkie.
Cesar Milan the dog whisperer
Dog behavior issues? Dog Whisperer Cesar Millan can help!
Whenever we come home she is always at the door waiting for us. The minute we open the door she starts jumping into the air and making complete spins. She will continue this until one of us touches her. I am sure Cesar Milan (the dog whisperer) would have something to say about that.
She is a very happy little girl. All she desires in life is to be with us. Everyone that meets her wants puppies from her. I would never have bred her because of her size. Besides I'm not a breeder. We had her spade just as soon as she was old enough.
is a full-color publication mailed to your door 5 times per year. Chihuahua Connection features Chihuahua articles, breeder information, events, dog show results, small dog shopping, plus other fun and informational articles. Your dog could be on the cover of next issue