Unique Crochet Dog Sweater Pattern
"Doggie coats"
This crochet dog sweater was inspired by this little knit sweater I found in a thrift store. It is a tiny sweater and may have been for a stuffed toy. But I find it perfect Chihuahua clothes size. For some reason it just caught my eye and I bought it.

When I got it home I decided to try reproduce it in crochet and to make some cute crochet dog sweaters or dog jackets. This is the pattern I came up with and you are welcomed to use it.
My girls don't
mind wearing sweaters and shirts but they sure don't like modeling for me. They always look like they are being punished. Guess they will never be show dogs.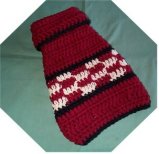 Crochet dog sweater pattern
This sweater will fit any small breed dog between the weight of 5 to 15 pounds. If you need it longer or shorter between the neck and tail just add or decrease the number of rows crocheted
I used 4 ply worsted weight yarn for this crochet dog sweater and a size J crochet hook.

Free easy crochet dog sweater pattern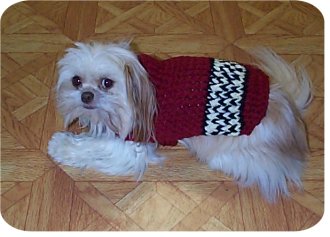 If using thin yarn use two strands
If using thick yarn use one strand
J crochet hook
Back part of sweater
Chain 31 starting at neck
1 – DC in 2nd ch from hook and than across (30 st)
2 – Ch 2 turn, repeat row 1
3 – Attach black, ch 1, sc across
4 – Repeat row 3
5 – With main color ch 2, dc across
6 – Repeat row 5
7 – Fold collar in half, sc through both halves across
8 – Ch 2, dc across
9 – 17 Repeat row 8
18 – 19 pick up black yarn, sc across
The Checkerboard design
20 – Pick up red 3 dc, pick up whit (carry red and white through out this design) 3 dc, repeat 3 red than 3 white to end
21 – 23 repeat row 20 alternating colors
24 – 25 pick up black sc across
26 – Pick up red dc across
27 – 28 Decrease 1 st on each end of these rows dc across
29 – Dec 1 st in center dc across
End off.
Chest Part of dog sweater
Starting at belly end and crocheting towards neck
Ch 16
1 – 1 dc in each ch across
2 – 5 ch 2 dc across
6 – 13 decrease 2 st spaced evenly in each row
14 you should now have 1 stitch. End off.
Stitch up neck and stitch in chest piece. Leave about a 2-inch hole on each side for legs. I positioned my leg openings about 5 inches down from neck point.
Crochet Dog Sweater to Dogs Clothes