The many choices of dogs clothes today are so wide no budget is left out. You can buy designer outfits for your pets the same as for yourself.
You can buy off the rack in department stores, order online or make them yourself. Patterns for sewing, knitting and crochet are plentiful. If you are a crafty person you can design and make your furbaby an entire wardrobe like nobody else.
The folks that know how to sew can pick up a McCall's or Simplicity pattern to make anything for their pets. The patterns range from making beds to bows, dresses to suits. You can add all the accessories to personalize each and every outfit.
The creative seamstress can add all the special touches to make their outfits unique for their canine kid. This is fun and very easy on the budget.
Dog clothing
One of the items I made was this vest for Hanna and than sold many of them. If you are looking for a source of extra income, dog clothing is a hot item to make and sell. Dog clothing is not just a fashion statement but they can also serve a purpose.
For example booties protect them from the salt on the streets in the winter and from hot pavement in the summer. A lot of people don't think about how hot the pavement in a parking lot gets in the summer. There are sweaters and jackets to protect them from the frigid winter winds.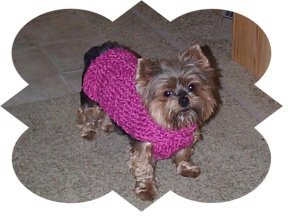 Dog knitting patterns
There are many knit sweaters you can buy today. The sweaters that department stores carry are inferior as far as I am concerned. Their only purpose would be as a fashion item not for warmth. They are made just for looks not to protect from the weather as they are always too thin.
I knit with knitting needles and with knitting looms. Here are a couple of patterns I made up for my girls. You are welcome to use them if you would like.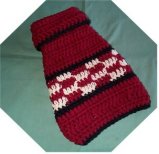 Crochet dog sweater
Also I have one crocheted sweater pattern I made up. It is a pretty easy pattern and you can find it here. I enjoy sewing, knitting and crocheting so making these items are lots of fun for me.
But if you prefer shopping for the latest and greatest new outfits in dogs clothes for your furbaby there is plenty to choose from online, in stores or catalogs. We dress our girls both for fun and to protect them from the weather so their wardrobe is varied.
Costumes are fun for the holidays and parties. There are pet wedding, shower, birthday and many more special events you can dress them up for. Yes today we have a wide selection of dogs clothes for our pets and our budgets.
Some may just put a fancy bandanna on their pet while others will adorn them in a Tuxedo. It doesn't matter if the clothes come from a fashion designer or your sewing machine, knitting needles or crochet hook. Whether you are wealthy or watching your pennies we all love our pets. We all love dressing them to one extent or another and showing them off.
Crochet dog sweater pattern Free and Easy crochet dog sweater
Dog Sweater Pattern Knit on a knitting loom
Dog Collars and tags The importance of dog IDs