How to make dog clothes
"Cheap dog clothes"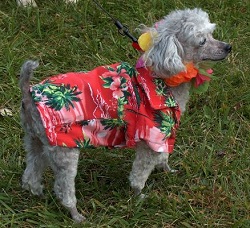 We will disscuss how to make dog clothes here. If you have a dog than you know buying those cute little outfits for your pet can be quite expensive. Instead of buying them you can make your own clothes for your dog.
Making your own clothes can be completed easily and indeed it is a much cheaper alternative too. Now the question is how to make dog clothes? You do not have to be an expert to make some cute outfits for your dog.
You just need to know the basics of how to use your sewing machine. Knowing how to sew will make it possible for you to create an entire outfit or adjust bought sweatshirts from a thrift store.
Extra xmall dog clothes
Knowing how to sew dog clothes is especially handy when you have an tiny dog. You can make the extra small dog clothes at very little cost and have a perfect fit.
This page shows you how to alter a baby sweat shrit into a warm sweat shirt for your dog. Sweatshrit alteration can be found on this page.
The first thing you need to do is to measure the dog. Start by measuring the dogs neck, than the largest part of his chest or ribcage. Than get the measurement from his nice to the base of his tail. This will give you an idea what would be the proper size of the clothes.
What type of clothing are you wanting to make? Will this be for warmth or are you just making a fashion statement? For a cold environment you may need woolen or warm clothes. on the other hand for warm weather you need light material. Whatever it is the first key factor of "how to make dog clothes" is measurement and suitable material.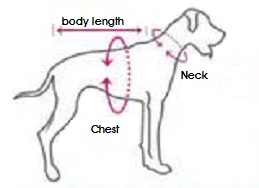 Sew dog clothes
Next is to choose the pattern. Dog clothing patterns you can pick it up from pattern books available in any fabric stores. You can also find some from the internet by visiting different websites or from free down-loadable dog patterns ebook as well.
Once you have selected the pattern and decided on the fabric it is time to gather your supplies. If you are making your first dog outfit you could use some stretchable material that would give you some freedom of in shaping.
If you have downloaded the pattern than draw it out on some tissue paper or even a paper bag. Cut out the pattern and pin onto the fabric. Make sure the pattern has the seam allowance included, if not you will need to allow for that. Now cut the clothes according to the paper cutting.
I would suggest you find a basic pattern to start with when learning how to make dog clothes. You don't want to mess with zippers, ribbons, bows and buttons for now. Just choose something that is easy. The first outfit is a learning process, after this you can adjust, add and change the clothes into many cute outfits.
Just remember while you have fun dressing up your dog, his comfort comes first. You must not put clothing on him that is binding or will cause him to overheat.


How to make dog clothes to Clothing