I Love My Pet
"Cutest puppy in the world"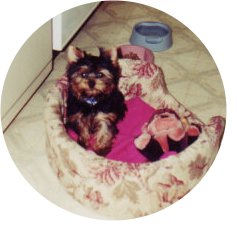 Yes I admit it I love my pet. She is loyal, loving and so funny at times. When we first saw Hanna she was just 12 weeks old. That was in April of 2000.
We found a kennel across the state and took a trip to check it out.
Hanna was born in a kennel in Alabama. It was a very clean and well set up kennel.
The breeder only had Yorkshire Terriers and their kennel was heated in the winter and had air conditioning in the summer.
I had never seen such a nice set up before this kennel. You felt the animals were well cared for and in good health, it was so clean and no smell.
The dogs had access to the outside when ever they needed or wanted to go.
Needless to say, unlike many dogs, Hanna has never seen a day of neglect in her life.
I love my pet and am so happy she was born in a very clean and caring kennel and at twelve weeks came to live with us. She was not the smallest puppy there but she sure was the cutest.
Yorkshire Terrier teacup puppy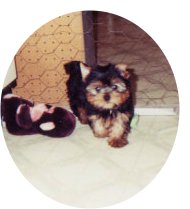 When we first saw her she was like a little block of black fur. Her body was stout but her tiny legs were so short you really couldn't see her walking. It was as if a ball of fur with eyes were floating across the floor.
Hanna is much larger now at 8 years old. She is a bit chunky at 9 lbs but still only 10 inches tall. Hanna is short and wide, a stocky little girl.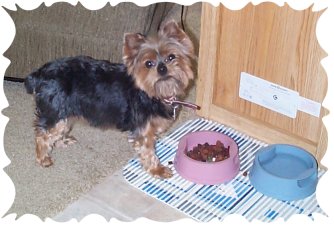 Small dogs good with kids
Hanna will only eat out of a pink bowl and only drink out of a blue bowl. (and they say dos are color blind. I do not believe it).We keep a set of these dishes at the house and in the RV. We also keep a small set in the vehicles. They are all the same color just different sizes.
When we travel you never know if or when you may get caught in a 6-hour traffic jam like we did this past summer in Virginia. I keep the dishes so they can have food and water where ever we are.
We call her Hanna but her full AKC registered name is "Hannamaye of Alabama". That is where I got my ebay ID "hannamaye" Yes we do spoil them a bit because we love my pet, but they are so well behaved and fit into our family perfectly.
(Below is Hanna sleeping. She had played so hard that she just tuckered out and fell asleep where she was).
Cute puppy pictures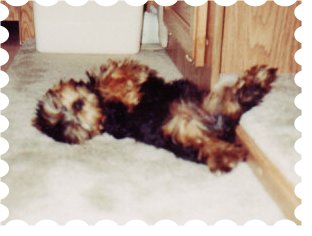 Puppy Rescue Adoption
Yorkshire Terrier Rescue Adoption
Rescue Me is a 501c3 non-profit organization dedicated to ensuring the safety and well-being of the Yorkshire Terrier breed. We are a small group of rescue buddies who came to know one another through one common interest - saving the lives of dogs.

Rescue Me Yorkie Rescue
Love My Pet to Canine Kids