Stylish Dog Clothes
"Harley Davidson Jacket Style"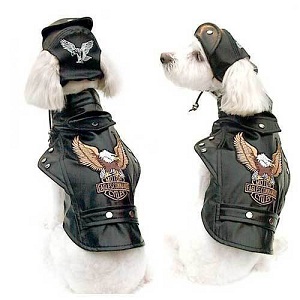 Matching stylish dog clothes are the Harley Davidson shirts you ware and this similar type Harley Davidson jacket for your dog. These dog clothes are quickly growing in popularity.
With everything from jackets to bandanas and more, you will find that there are plenty of choices out there that the avid dog lover can place on their pet. Just like the clothes you find for humans, you will discover the selection of items can be varied.
One of these choices for Harley Davidson dog clothes is the Harley Davidson emblem jacket.
This is a motorcycle jacket that is designed to look like the authentic jackets that avid riders wear.

It comes in imitation leather that attaches around the neck of your dog and secure in place with buttons and straps.
Any pet that is decked out in this jacket is going to look remarkable. With the black leather look, you are going to find that it will compliment most breeds of dogs and have them looking rough and ready to go.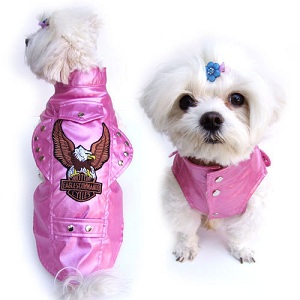 Dog theme clothes
In fact, no matter if you are an avid biker or just a collector of Harley Davidson merchandise, there is little doubt that you are going to find that this is one item you are going to have a smile on when you watch your dog walking around in it.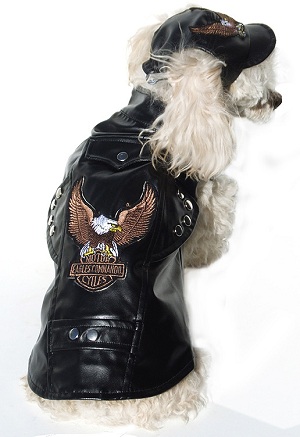 More importantly, your dog is going to feel like he is top dog on the block wearing it. Unlike many of the outfits that are out there that are designed to be cutesy and directed more towards female dogs, you will find that this masculine design is going to be perfect for the male dog you own.
Of course, there is no reason why the ladies can't take full advantage of this style as well. But of course we also have a Harley Davidson jacket style for the gals stylish dog clothes.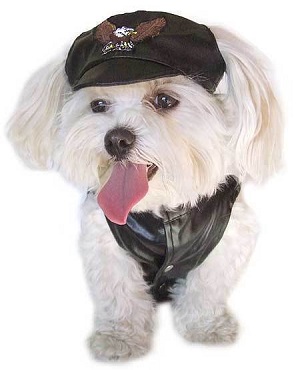 This is the perfect design that will work, no matter what time of year it is as well. While some will place these items on their pet during a bike ride, others may find they are the perfect choice for Halloween.
No matter what the occasion is, there is little doubt that both you and your pet are going to be impressed with the design and the fit of this jacket.
While it is currently available only in an XS size, additional sizes are very possible in the future. This jacket offers the trademark eagle emblem and the decorative metal buttons that adorn it will give it these Harley Davidson dog clothes the feeling like they are an authentic motorcycle outfit. This means your pet can have the same design you are wearing, making it the perfect combination outfit.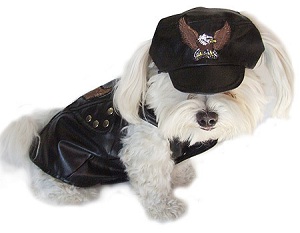 Dog clothes and accessories
The hat is not included with the jacket so if you want to complete this sharp outfit than consider the hat also.
Remember, when it comes to stylish dog clothes, you will be presented with a variety of items, including this jacket and matching hat.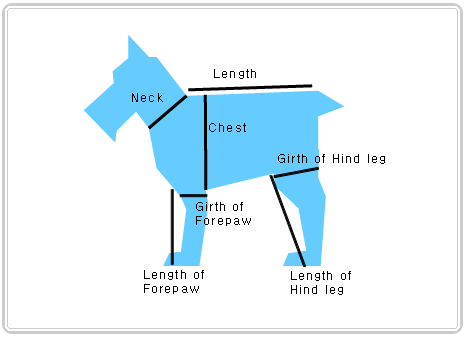 You are going to find that the masculine or feminine appearance will enhance the appearance of your dog and give you both the chance to display your love for one of America's most popular motorcycle companion.
This great jacket is only $39.95 plus $6.00 shipping
JK_Motorcycle jacket in black or pink.
The eagle emblem and decorative metal buttons are stitched on to give a genuine Harley look to this motorcycle outfit. Your dog will feel macho in this one!
XS~Large are adjustable double button style!
XXL~3XL are adjustable Velcro style!
For the Extra Extra Large dogs the price is only $44.95 plus $6.00 S/H
International shipping is a flat rate of $12.00
Stylish Dog Clothes to Dog Clothing